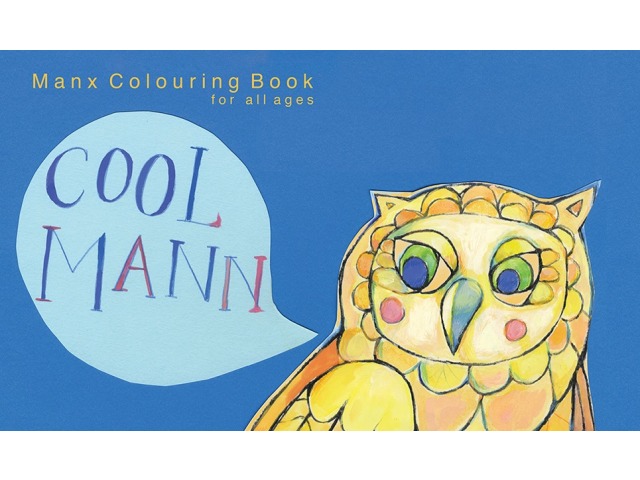 Cool Mann, the new colouring book from award-winning illustrator and Bloomsbury author Jo Davies, is now published.
With its quirky images that include Vikings, boats, animals and more, made from recycled paper and featuring a jolly cover, Cool Mann is the perfect gift for children of all ages. It is stocked at many retailers across the island, including the Culture Vannin shop, as well as being available on Amazon. Priced reasonably at just £5, it's made to be widely accessible and is a good size to post off island as a gift.
As the UNESCO year of the indigenous language approaches in 2019, and the Year of the Manx Language in 2021, the book plays its part in celebrating our unique culture and language.
Although the book is suitable for people of all ages, Jo was keen to maximise its learning potential for children in particular. It was designed around key principles established from research that Jo undertook as part of her role as an Associate Professor in Illustration, at the University of Plymouth. She is interested in the power of imagery in defining culture, and as part of this, understanding how children learn through illustration. Cool Mann purposefully builds on the principle that children become more engaged when they see their own worlds reflected in what they read and look at. Existing language books tend to be generic, using images interchangeably. This means that the images included in books introducing German, French or Japanese vocabulary are the same as those to teach Manx Gaelic. In comparison, with its loosely themed pages that include drawings of wallabies, ice creams, and the Moddey Dhoo, as well depicting our geography in a stylised way, Cool Mann aims to introduce key Manx words using diverse icons and narratives that are distinctive to us on the Isle of Man.
The project was hugely indebted to the Manx Language Unit in the early stages of development and their advice on key words to include created an informed structure to on which the content was designed. An exhibition of artwork and workshops with children at Erin Arts Centre, in 2015 provided a chance to test the content on a real audience. There has since been an explosion of colouring-in books, a popularity that is thanks to recognition that such creative activities can contribute to well-being through mindfulness. This adds to the book's potential appeal for adults as well as children.
Published: Thu, 01 Jan 1970