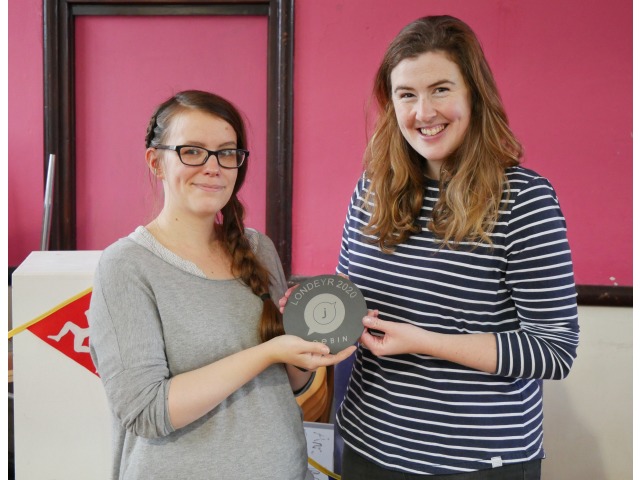 Vicky Webb receiving the award from Ruth Keggin Gell, the Manx Language Development Officer at Culture Vannin, one of the partners of Jeebin, the Manx Language Network
Illustrator receives Londeyr award for her work to promote the Manx language
Jeebin, the Manx Language Network, was delighted to present illustrator Vicky Webb with the annual Londeyr award, at the Cooish Manx Language Festival 2020 earlier this month.
The Londeyr (or 'lantern') award was introduced by Jeebin in 2018 and celebrates a person or a group making new efforts to increase the use of the Manx language on a daily basis.

Vicky Webb is an illustrator who lives in the Isle of Man, working under the pseudonym 'Crumpets and Crabsticks'. Jeebin noted Vicky's dedication to using and promoting Manx through her beautiful designs, which are created regularly and posted on social media, attracting wide interest from the public. Vicky has also created popular Manx language merchandise, and worked with Culture Vannin in 2018 to produce a book entitled 'A Manx Alphabet'.

Originally from Kent, in England, Vicky has embraced all things Manx, including her husband Dylan. As parents, they knew they wanted their children to grow up speaking their ancestors' tongue and to be connected to the unique identity and culture of the Isle of Man. Vicky is enjoying learning more about the Manx language through her illustration work, and through engaging with members of the Manx-speaking community in her quest to find out more about Manx.
Vicky said: "It is a pleasure and a privilege to be presented with the Londeyr award. What started as a passion project to provide my family with a child-friendly learning aid is blossoming into something closer to a community resource. Gura mie mooar eu to the Gaelgeyryn at large for their insight and guidance."

Previous recipients of the Londeyr award have been journalists Dollin Mercer (Manx Radio, 2018) and Paul Moulton (MTTV, 2019) for the increased use, and promotion of, the Manx language in public news bulletins and programmes.
For more about Vicky's work, see her blog

Published: Tue, 24 Nov 2020