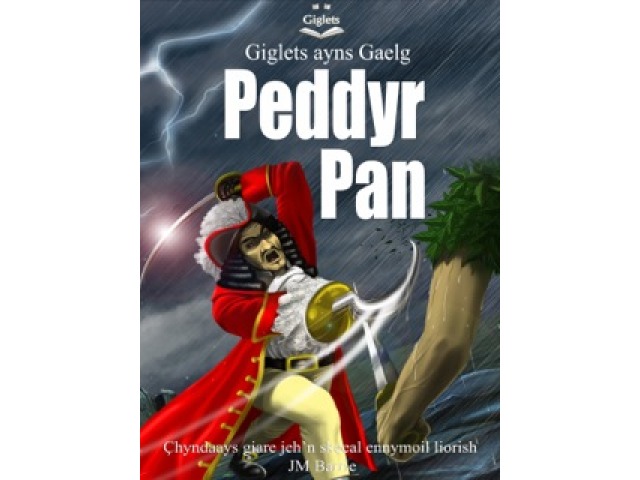 Peddyr Pan ayns Gaelg
Manx Language Interactive ebook
Giglets Limited, a start-up media enterprise based in Ayrshire, has developed a Manx language animated ebook. Giglets is a leader in ebook education and has partnered with the Manx Heritage Foundation to bring this innovative ebook to Manx learners and readers of all ages.
The 'Giglets ayns Gaelg Peddyr Pan' ebook is a Manx translation of JM Barrie's classic fairy story, Peter Pan. The story features a read along soundtrack with each sentence highlighting in sync with the audio track to enhance the reading and learning experience. The ebook also features five full-colour animations to bring the classic story to life.
Giglets is the award-winning company behind the development of SmartReads enhanced ebooks. SmartReads are classic stories by writers like Shakespeare and Dickens that have been shortened, modernised and animated to create interactive learning experiences. Giglets also develops ebooks in Scottish Gaidhlig, Irish and Welsh.
The Giglets ebook will be released by the Manx Heritage Foundation for download from their website, as well as from Giglets. This ebook will be available via iTunes and will also be available for Manx Organisations to request for download from their own websites. Giglets is achieving this through a partnership with the Manx Heritage Foundation , in which both partners hope to encourage the use and support of the Manx language.
Download the book here: http://www.giglets.net/ebook/giglets-ayns-gaelg-peddyr-pan
'We know that Giglets ayns Gaelg Peddyr Pan can be used to support the development of Manx literacy on the Isle of Man. Our hope is that we can develop further texts in partnership with the Manx Heritage Foundation and that these will be valued by the Manx speaking community internationally. At Giglets we always hope that our publications can have a positive impact on the children's enjoyment of reading, learning and ultimately contribute to improving their literacy whilst preserving this rich and culturally important language.'
Craig Johnstone, Founder & CEO, Giglets
The Manx Language Development Officer, for the Manx Heritage Foundation, Adrian Cain commented that 'there are a growing number of resources available for those learning and speaking the language and it's great to see Manx out there with larger language communities who have greater resources and manpower. The support of the Manx Heritage Foundation and their committee continues to be fundamental to this increase in usage of the language.'
Published: Thu, 01 Jan 1970