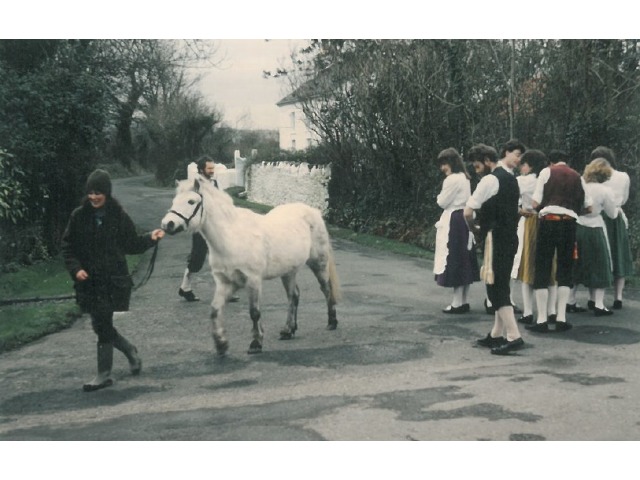 A rare opportunity to see a selection of film footage in Manx that was recorded in the 1980s will round off this month's Gaelg21 events. Taking place on Wednesday 7 July at 7pm at Laxey Working Men's Institute, the Manx film night will focus on Manx-made Foillan Films.
Foillan Films were created in the 1980s by George Broderick and Peter Maggs and include 'Ny Kirree fo Niaghtey' ('The Sheep under the Snow'), featuring the narration of Doug Fargher and singing of Brian Stowell, and 'Yn Gareyder' ('The Gardener'), featuring the poet, Paul Lebiedzinski. Well-known Northern Manx speaker, the late Freddie Cowle, also helped to produce several of the films.
All of the films, outtakes, and accompanying documentation now form an archive at the Manx Museum Library, and the evening will be presented by Manx National Heritage's Assistant Curator, Nicola Tooms, who is a fluent Manx speaker:
"When the Foillan Film archive was kindly donated to the Museum it was given with the hope that it would be able to reach a wider audience (although back then no-one could have predicted a world wide web making it accessible all over the world at once). It has been interesting to work on these films and a great pleasure to make them available online. I'm sure many people will enjoy watching them and maybe it will inspire a new generation of Manx film makers." - Nicola Tooms
The evening is hosted by Manx National Heritage and Culture Vannin, with the kind permission of Prof. Dr. George Broderick.
All are welcome to attend – free tickets are available online from the 'what's on' section of Manx National Heritage's website: www.manxnationalheritage.im
Whereas the films will be in Manx, a printed transcription and translation into English will be made available. Refreshments will be available for a small donation and a music session will take place at the Mines Tavern after the film night, as pictured in one of the Foillan films itself!
For more information about Gaelg21 visit: www.learnmanx.com/gaelg21
Published: Mon, 28 Jun 2021