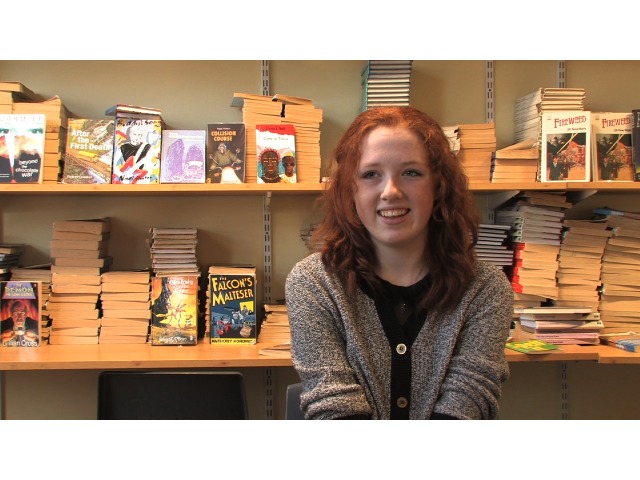 Isle of Man team in 'language Olympics'
Isle of Man team in 'language Olympics'
A TEAM from the Isle of Man will, for the first time, take part in the International Linguistics Olympiad
Four secondary school students will compete with teams from 30 other countries at what's described as 'the Olympics of the language world'. Erin McNulty and Doona Lambden, both in Year 12 at Queen Elizabeth II High School, will be joined by Byron Slater, St Ninian's High School, and Charlotte Tyler, Ramsey Grammar School. Both are in Year 13.
The competition will take place between July 22nd and 26th at Manchester University, with gold, silver and bronze individual and team medals awarded. Travel to the event has been kindly sponsored by the IOM Steam Packet
The team's participation was arranged Bob Teare who heads the Department of Education and Children's Manx Language Service.
Mr Teare entered Manx language students from Queen Elizabeth II High School, among them Erin and Doona, into the UK Olympiad, which involved them solving complex questions on a test paper over two and a half hours in a bid to qualify for the UK team. Deciphering place names in the extinct language of Phoenician, wrangling with Bulgarian suffixes and translating passages from English to Bengali and vice versa were among their challenges.
Despite having little time, Erin and Doona finished in the top 10 per cent in the country and Erin only narrowly missed out on a team place.
The organisers of the International Olympiad – which attracts the top four student linguists from each country – agreed that the Isle of Man had put up such a strong showing it could enter a team of its own. Mr Teare then challenged other schools' language students to tackle the selection paper and recruited the top-scoring students, Byron and Charlotte.
As well as A-levels in Manx and French, Erin is taking GCSEs in Latin and Japanese this summer. Doona is taking A-level Manx. Both fell in love with languages when they were taught Manx at Ballaugh Primary School and they have continued lessons with the Manx Language Service.
Byron has studied Manx with Mr Teare's team and is now taking A-levels in French and Spanish. Charlotte also studied Manx and French at a young age and is also in the middle of French and Spanish and Music A-levels. She will study languages at university from September.
Mr Teare said the event was the most prestigious of its kind in the world, with top linguists judging it. The complexities of Umbu-ungu, Basque, Teop and Rotuman were among those students wrestled with at the 2012 Olympiad.
'If you think that the top young linguists in China, Russia, the United States and all these other huge countries will be taking part, the competition will be very tough,' he said. 'Since the first competition in 1965, even the UK has won only a silver medal and a handful of bronzes. It's a very difficult competition. We are not going to Manchester with huge expectations of winning medals, although we'll do our very best, but it will be a fantastic experience to take part and we'll be proud to represent the Isle of Man.'
Mark Woodward, Isle of Man Steam Packet Company Chief Executive, said:
'The competition is a wonderful opportunity for the students and I'm sure they will do the Island proud. We try to do our part as a company, through sponsorship and support where possible, to encourage young people to take on challenges and aspire to be the best they can be. Being pitted against the top young linguists from around the world certainly meets those criteria.'
Published: Thu, 01 Jan 1970