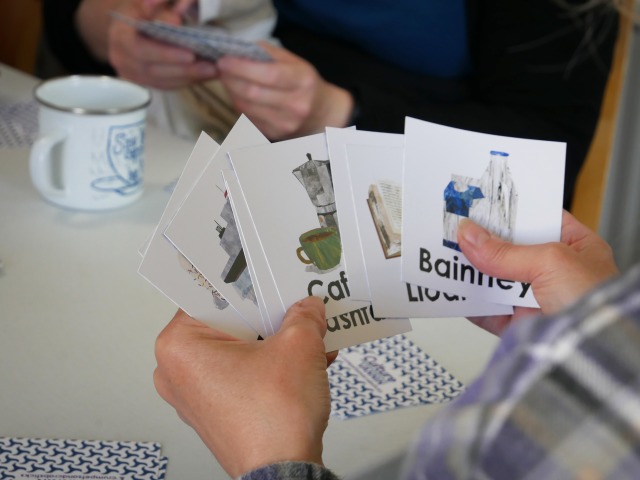 As the days grow shorter and the nights draw in, why not learn something new and take advantage of some free Manx learning opportunities? A range of different routes are available for anyone looking to get stuck in. Meet new friends, and give your brain and mood a boost!
On Saturday September 16th a brand-new weekly Manx class for beginner adults will start up in Peel, taking place throughout the academic year. Led by knowledgeable and experienced Manx teacher, Jamys Harrison, on behalf of Culture Vannin, these fun and engaging classes will take place on Saturday mornings between 11am and 12pm at the House of Manannan. Sign-up to the class by filling out our online sign-up form or by emailing gaelg(at)culturevannin.im * / phoning 694753.
If you live in the north of the Island, you might like to join one of the new weekly classes run by Paul Salmon (Tantaran Ramsey Manx). He will be running Monday lunchtime sessions for beginners in Jurby Community Centre, starting on 11th September, as well as an informal evening class for adult beginners every Tuesday evening between 7.30pm – 9pm in the Mitre pub in Ramsey, starting on 12th September. Paul also runs intermediate level classes, and pop-up courses to encourage people to use Manx with babies and toddlers. You can register for Paul's classes by emailing rhumsaa(at)gmail.com or phoning 451261.
Perhaps you're not brand new to Manx, and want to reinvigorate your learning? You'd be very welcome to join one of the pre-existing Manx classes or conversational groups, which run on a weekly basis. All of these learning opportunities are free to attend.
You might also like to mark the dates for the Cooish Manx language festival in your diary: 1st – 5th November 2023. This friendly, five-day long festival will feature 21 events across the island, for all levels of learners. Find out more: www.learnmanx.com/cooish
The Manx language is for everyone, and is part of what makes our Island special. Get involved!
*Please note that you will need to replace '(at)' with the @ symbol in email addresses. We have removed them here to avoid attracting spam!
Published: Tue, 22 Aug 2023