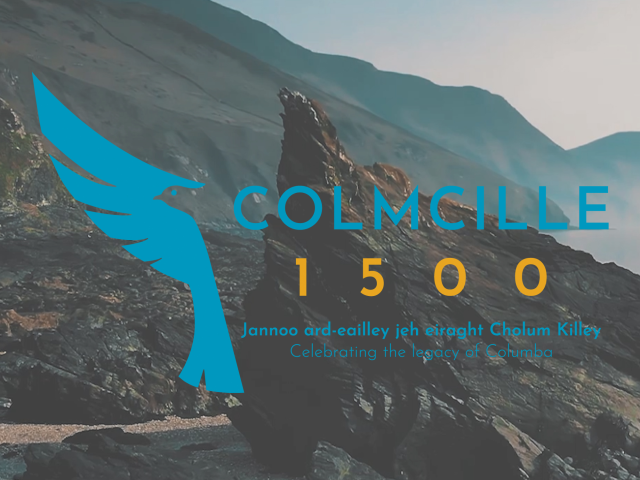 A new choral piece by Aalin Clague, one of the Island's leading songwriters, has been released, along with a film specially created to accompany the music. 'Y Folliaght' is inspired by nature poetry attributed to Columb Killey/Colmcille/St. Columba, with lyrics in Manx by Dr. Marie Clague.
The piece was created as part of the #colmcille1500 celebrations of the 1500th anniversary of the birth of St. Columba/Colmcille and commissioned as a #treisht2020 project by Culture Vannin. A sound recording of the piece, featuring the Manx Gaelic choir Caarjyn Cooidjagh, was made during recent Gaelg21 celebrations.
The lyrics begin:
S'eunyssagh d'ou dy ve er cronk aalin
er baare carrick
dy voddym mennick fakin er yn ushtey kiune
Dy voddym fakin ny tonnyn trome
erskyn yn ushtey gial myr t'ad cantal
kiaull da nyn Ayr dy bea veayn
/
Delightful to me to be on an island hill,
on the crest of a rock,
that I might often watch the quiet sea.
That I might watch the heavy waves
above the bright water, as they chant
music to their Father everlastingly.
The accompanying film was created for the music by Andy Skillen. It was shot at various locations around the Isle of Man, including Niarbyl, Traie Vrish, Traie Vane & Garwick. The sound was recorded by Ballagroove Recording Studio.
More information about Caarjyn Cooidjagh can be found here: facebook.com/CaarjynCooidjagh
You can find out more about Colmcille1500, a celebration of the legacy of St. Columba and our shared Gaelic heritage, here: colmcille.net/colmcille-1500/
Published: Sun, 25 Jul 2021