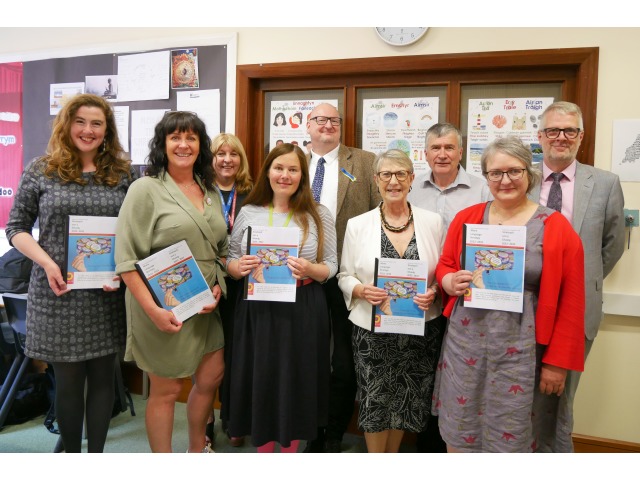 The second joint Manx language strategy was launched at QEII High School on Wednesday 22 June. The ten-year strategy focuses on 'Manx language for all', and builds on the strengths and successes of the Manx language community.
The strategy sees an increased focus on training and advocacy for the Manx language, the development of numerous new resources, and the exploration of ambitions for further education provision. Manx is going from strength to strength, and there are now almost 2,000 children learning the language in the islands schools, as well as many adult learners both on-island and internationally. Through working together to develop sustainable practices, we aim to grow the number of speakers and learners of Manx to 5,000 people by 2032.
Jeebin, the Manx language network, brings together people working for the language. In partnership with the community, they have developed a strategy with a living action plan, which includes practical and measurable targets for the sustainable growth of the language.
Manx has seen a fantastic upsurge of interest in recent years, and the island is looked to internationally as an example of best practice. Learning and using Manx improves well-being and sense of community; positively promotes the Isle of Man internationally; and strengthens our identity.
Hon Julie Edge MHK, Minister for Education, Sport and Culture, said:
"The Manx language helps bring a deep sense of identity and creativity into our education systems, builds networks and communities, encourages lifelong learning, and contributes to the economy."
Hon Chris Thomas MHK, Chair of Culture Vannin and Minister for Infrastructure, said:
"Much has been achieved over the past five years, most notably a higher profile for Manx, both nationally and internationally. Jeebin is delighted to see public and private sectors embrace the language and know that they are part of its continuing story."
You can read the Manx Language Strategy here and find out more about Jeebin here.
Published: Fri, 24 Jun 2022