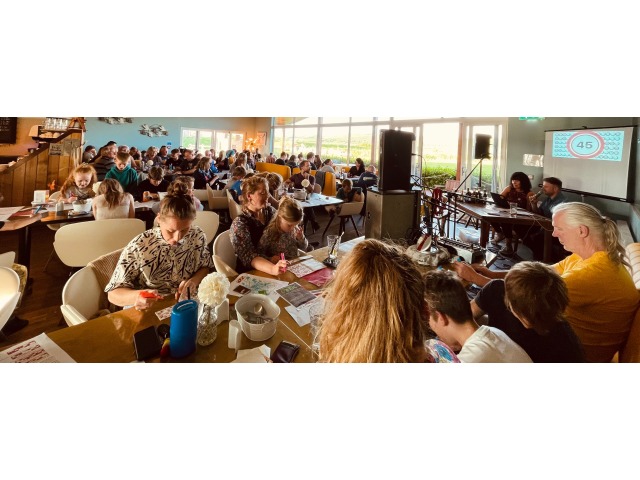 There were lots of fantastic opportunities to get involved with the Manx language via a month-long celebration called 'Gaelg21' ( 'Manx21'), coordinated by Jeebin – the Manx Language Network – in conjunction with the Manx language community.
From 9th June to 9th July, the celebrations featured 24 events, with a blend of in-person and online offerings, attracting hundreds of attendees from the Island and further afield.
Gaelg21 kicked off with 'Oie Vingo', a sell-out Manx Gaelic family bingo night, organised by Yn Chruinnaght. Accessible, inclusive, and attractive to total beginners and fluent speakers, the event encapsulated the whole ethos of the festival: 'Gaelg son dagh ooilley pheiagh' – 'Manx for all', which is Jeebin's strapline.
In the weeks that followed, there were lectures and talks; quizzes; gigs and music workshops for adults and children; a Manx Gaelic film night; pop-up lessons; and even the chance to be a 'big kid' for the day at the Bunscoill Ghaelgagh! The public were also able to see some of the exciting work that has been happening within the Manx language community in terms of research, digitilisation, and forward planning, and to feed in their own ideas. Conversation groups met in cafes, including the Dovecote Tearooms in Kirk Michael, where staff enjoyed learning some Manx along with the public. Organisations around the Island also joined together with Manx speakers, providing new routes into Manx - bilingual beach cleans with Beach Buddies, and collaborative talks about Manx birds and their Manx Gaelic names with Culture Vannin and Manx BirdLife.
Gaelg21 also saw the release of scores of projects and resources, such as the 'Loayr Gaelg rhym' ('Speak Manx to me') badges, to help speakers visibly identify one another. We heard lots of great stories of people meeting new (to them!) Gaelgeyryn after wearing the badges around the island: yindyssagh! A host of videos in English and Manx were also launched, including a series on place names and a vlogs filmed and delivered by fluent Manx speakers in their teens and early twenties. A specially composed song by Aalin Clague, celebrating the Island's linguistic and cultural link with Ireland and Scotland, was also released to coincide with Colmcille1500 celebrations. The song, along with accompanying film with beautiful footage from the island, can be heard here.
There were plenty of opportunities for all ages to get involved in Gaelg21, and a number of children's competitions were organised by different groups, including a Manx language colouring-in competition; a song competition for a new, catchy Gaelg21 'anthem'; and a short-story competition run by Jo Callister from the Department of Education, Sport and Culture, where students had to incorporate a small list of Manx words into their stories, with winning entries translated into Manx. DESC also ran an interactive schools project called 'Manx Mysteries', partnering with a number of organisations in the Isle of Man.
Jeebin would like to thank everyone who was involved – gura mie mooar eu!
Published: Mon, 12 Jul 2021