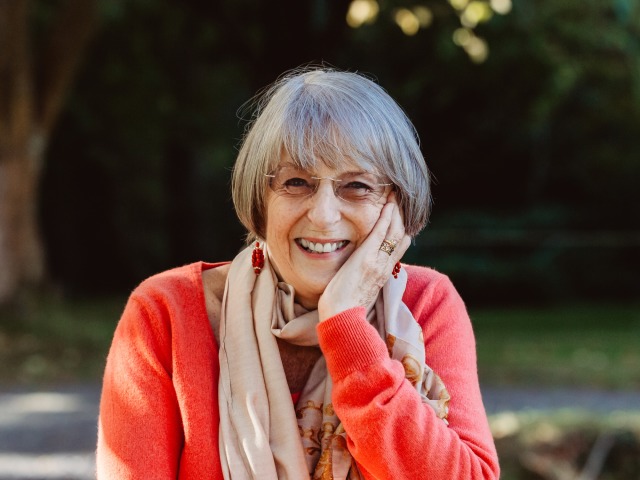 Clare Crellin, photo credit: Amoré du Plessis
A tribute, written by Clare's friend, and fellow Gaelgeyr, Rosemary Gibson
It was with great sadness that many of us in the Manx-speaking community learned of the death of Clare Crellin on Saturday 13th November 2021.
Born and brought up on the Island, Clare became a passionate advocate of the Manx language, with an infectious enthusiasm for learning herself and for encouraging others in learning. Her interest in speaking Manx started from her first student days in Liverpool in the 1960s, when she visited Brian Stowell at his home in Bebington. After retiring in 2010, Clare and her husband Max then divided their time between the Isle of Man and Catalonia, and Clare had the opportunity to start studying Manx again, through a variety of classes with tutors including Paul Salmon, Brian Stowell, Joan Caine and James Harrison. Clare developed an easy fluency with Gaelg, which belied the work involved in achieving this. An accomplished intellectual, with a strong publication record in psychology and ability to speak Catalan, she was a conscientious student of Gaelg, preparing studiously for Mainshter – Prindeys sessions as well as for all her other activities. She never stopped learning, contributing to classes and reading groups until just weeks before her death.
Many met Clare through her work for Pobble as Social Secretary and Coordinator of their Mentoring Scheme. A founder member of Pobble (as was Max) in 2013, Clare was often the public face of the group, welcoming people at events, getting us all together for coffee or a meal, and helping to organise immersion weekend trips on and off the Island. Our last (2020) Pobble weekend in Ramsey stands out. Clare had organised the weekend with her usual meticulous attention to detail, but was constantly worried about how it was going, whether we were enjoying ourselves and what the weather was doing. She needn't have worried; we all had a brilliant time. One of the highlights was sitting in her and Max's lovely apartment on a grey October afternoon, chatting in Manx over tea and cake. What a precious memory for us all.
All these words speak of Clare's dedication to Gaelg. Of course there were many other facets to Clare's life: she was a keen member of Clare Kilgallon RBV's Manx choir, Cliogaree Twoaie, and she volunteered as a psychotherapist at the Hospice. All of her work was done without fuss or show.
We will miss all of this, but mostly we will miss her beautiful sunny smile, her ability to make you feel like the most important and interesting person in the world at that moment and her genuine caring love for us all. She was positive to the end, even posting a beautiful photo of a sunrise taken from her hospital bed, just days before she died.
A bright light has gone out for us all. We miss you, Clare.
Published: Thu, 25 Nov 2021