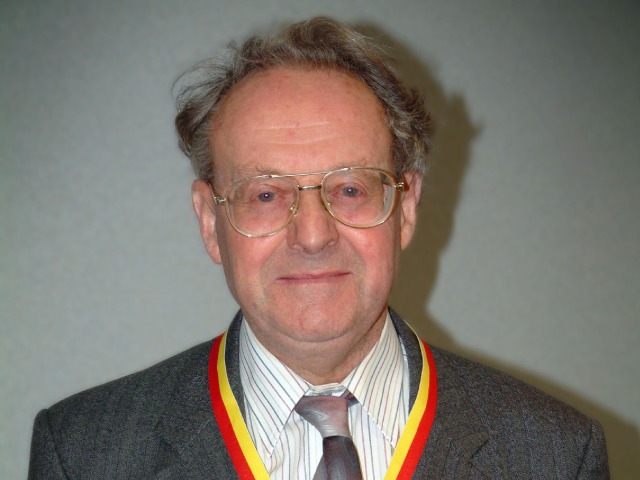 Juan y Crellin receiving the Reih Bleeaney Vanannan in 2005
John (Johnnie/Johnny) Christian Crellin RBV, known to many Manx speakers simply as Juan y Crellin, was one of the most generous and kind-hearted men you could meet.
Although he didn't grow up with Manx in his family, he heard it around him, seeking out other Manx speakers and Yn Cheshaght Ghailckagh, the Manx Language Society, to find out more about Manx field and place names in particular. He worked tirelessly for the Society for much of his life, championing and developing Thie ny Gaelgey in St Judes. A leading figure in Manx circles, he was known as a Gaelgeyr who was generous with his time and knowledge, teaching and guiding others; someone who loved the language and the culture that surrounds it, and someone always willing to share that connection.
His distinguished service during WWII saw him serving as a gunner in the Royal Navy during the Second World War, fighting at the Battle of Malta, the Battle of the Atlantic, and covering the landings at Omaha Beach on D-Day.
He had a rich and varied life outside his work for Manx, of course, entering the merchant navy after the war, before working the land as he had always so dearly wanted to. He was Captain of the Parish of Andreas for many years and he 'fenced the court' in Manx on Tynwald Day as Yn Lhaihder. He was involved in the acquisition of Thie ny Gaelgey in St Jude's which was established as the Manx Language Centre by Yn Cheshaght Ghailckagh in 1986, and is used for classes and events, for meetings by community groups, and to house a Gaelic library and bookstore.
As a Trustee of the Manx Museum and National Trust, he was involved in the securing of the Grove in Ramsey, and in gifting the land where Kerroogarroo Fort is situated.
Many of us knew him best in the company of his great friend, Leslie Quirk, from events often held at Thie ny Gaelgey – they both taught, mentored and inspired so many Gaelgeyryn, taking time to share their recollections and, in particular, the pronunciations that had come down to them. They were known for their great sense of humour, too, joking to one another to pass the 'keck roddan' (ratchet!) as they played between languages.
Juan y Crellin was awarded the Reih Bleeaney Vanannan, the Isle of Man's greatest cultural honour, in 2005. He donated the prize money to the Northern branch of Yn Cheshaght Ghailckagh, Banglane Twoaie.
We are fortunate that there are some great resources and links which we hope you will enjoy as you remember a Manninagh dooie, a true Manxman:
Published: Mon, 22 Nov 2021