Thu, 09 Feb 2023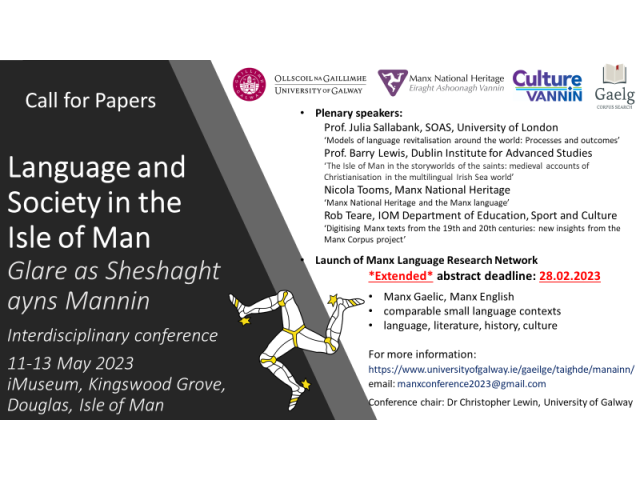 Between Thursday 11 - Saturday 13 May 2023, there will be an interdisciplinary conference taking place at the iMuseum in Douglas.
Hosted by the University of Galway and Manx National Heritage, the conference will have a particular focus on all aspects of Manx Gaelic language and literature, as well as Manx English and other aspects of the Island's linguistic past and present.
The organisers of the conference are inviting people to submit paper proposals for this conference, for which the submission deadline is Tuesday 28th February.
As well as papers about the aforementioned topics, they also wish to invite proposals on topics that are likely to be of comparative interest. This could be:
small island contexts
situations of language shift and language revitilisation
language revival in the absence of native speaker communities
inter-Gaelic, inter-Celtic and Irish Sea linguistic and cultural contact
comparisons and dialogue between the Manx and other language contexts
The organisers are also encouraging submissions in the disciplines of linguistics, sociolinguistics, language policy, Celtic Studies, literature, history, and more. In addition to established academics, they would particularly welcome proposals from students and early career researchers, as well as language practitioners, professionals, activists, and representatives of community and voluntary groups.
You can find out more about the submission requirements, and the conference via this webpage: Language and society in the Isle of Man, University of Galway.