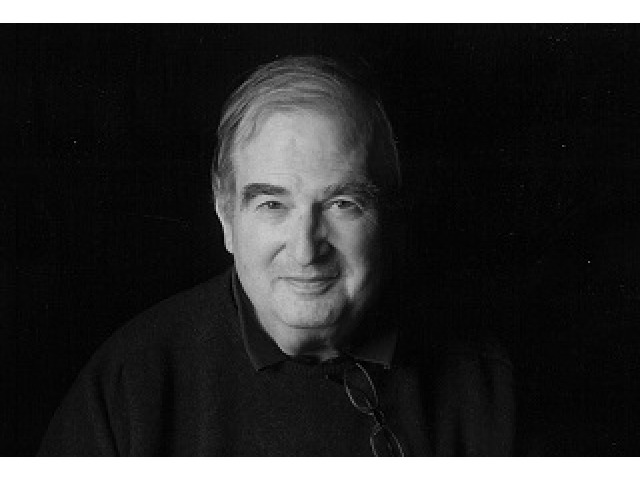 The death was announced on 19th March 2015 of Charles Arthur Cain, after a short illness.

Charles Cain came into the world in a small bungalow in Peel in 1938. His older brother, William, was nearly three, and in the fullness of time two sisters, Deirdre and Patricia, followed.

Events took a disruptive turn as war broke out. The Cain's father, an advocate whose own father had started the family law firm, T W Cains, joined the RAF and the whole family were almost immediately posted to Belfast. They weren't there long before they were moved to Cambridge, near to so many of the WWII airfields. It was during this time that both William and Charles were introduced to the music of the cathedral, and both of them were to become choral scholars in one of the world's most prestigious choirs, King's College Cambridge.

The family then moved to Harlow near London, and then back to the Isle of Man for a short period, and time Deirdre and Charles attended a small school in Derby Road, St Francis, run by the redoubtable Miss Stansfield and her rather fey companion, Miss Chapel.

After going back to King's College, Charles followed William on to Marlborough. It was during this period that their mother contracted TB. In those days it was a very serious issue and the treatment was her confinement to a sanatorium outside of Ramsey for two years. The children were only allowed to visit her and see her through a window in her isolation wing.

Eventually Mrs Cain recovered and their father bought a house, Belle Vue, on the edge of Peel and for a happy few years the family were all reunited though this came to an end tragically when their father, who by now was Second Deemster, died young at the age of 50 when Charles was just 18.

Charles undertook his National Service, joining the Black Watch in Scotland and then later being commissioned as an officer of the Cameronians. No doubt this is where he learnt his Scottish country dancing since he was a regimental dancer at the Edinburgh Tattoo. He was then stationed in Nairobi and Bahrain. In one letter home to William he complained that there wasn't a blade of grass out there. William obligingly sent him a single blade of Manx grass as a memento. Charles received the General Service Medal for service in the Persian Gulf.
Leaving National Service Charles went to King's Cambridge to read economics where once again he re-joined the famous choir.

Leaving Cambridge he went to join Barclays Bank and ended up being trained in Liverpool where he met a Miss Angela Tripp and they married.

Charles then became a branch manager for Barclays, but not on a UK High Street, Charles was in fact a bank manager in Jinja, in Uganda, on the northern shores of Lake Victoria as Charles was working for Barclays DCO – Dominion, Colonial and Overseas. Charles and Angela did two tours of duty in Africa, one in Kenya, where Charles ran the Nairobi Cathedral Choir, and one in Uganda. James and Edward were born during the African period but eventually the Cains decided to return to the UK and the twins, Benjamin and Matthew, were born around that time. Charles ended up working for the private banking group Alex Laurie Factors in Manchester, living in Whaley Bridge. Most people doing the 30 minute commute in the morning were probably reading the Times, or the Manchester City Guardian at least, Charles Cain, on the other hand, had set himself the task of learning his native tongue, Manx Gaelic, in which he soon became very proficient.

The opportunity then arose for Charles to return to the Island and the family came back here in 1972 as Charles took over the management of the Manx branch of the British bank Slater Walker. After serious problems with the parent company, Charles left Slater Walker to found his own company – Charles Cain and Company.

Typically, running his own trust company wasn't enough for Charles. He wanted to be more involved with the Island so in 1976 he stood for the House of Keys, but didn't get in. So, he turned to local politics and got himself elected to Ramsey Town Commissioners. This was a very valuable time in learning about his town and its strengths and problems. He served a time as Chairman as well and was a Commissioner for 13 years in all. He also, at this time, was Chairman of Yn Chruinnaght, the Manx cultural festival.

In 1981 he tried for the Keys again and this time was successful though not before having his house daubed by the protestors of Fo Halloo, a Manx movement opposed to comeovers and the burgeoning finance sector. They were probably surprised to receive a retort in Manx Gaelic.

At all times Charles was still interested in music, both traditional and classical. He recorded an LP with the Jubilee Ensemble based on the unique legacy of music hall songs of the Island and this recording formed basis of a Manx Music Hall act that he performed with Charles Guard countless times around the Island for Luncheon Clubs, WIs, societies, conferences and so on.

Charles threw himself energetically into the business of being an MHK. He dealt with an extraordinary breadth of subjects. His contributions to the debates were always concise, full of well-informed opinion, and more often than not, offering radical and imaginative solutions to the Island's seemingly intractable problems. Some of his motions for debate were visionary as well – local government reform, increased constitutional independence, many financial resolutions, and ideas such as lengthening the runway at Ronaldsway and expunging the death penalty from Manx Statute Books many years before it actually happened. He was also a keen proponent of Manx Radio being allowed to broadcast the proceedings of Tynwald and the Keys, something that was being resisted by some of the older members.

As keen sailor and yacht owner, Charles had set his heart on a Marina for Ramsey and was at the forefront in promoting the innovative idea. However, it was not to be and, in the end, it was Peel and Douglas that benefitted from this idea.

The early 1980s was a period when Tynwald had some great orators amongst its members; they contributed a very high standard of debate, done in the old-fashioned way. Wit, entertainment, cogent arguments. People like Jack Nivison, Charles Kerruish, Clifford Irving and Charles Cain. When they got up to speak, listeners knew they were in for a memorable few minutes and it was Clifford Irving who came up with the nickname for the two members for Ramsey – Charles Cain and Allan Bell, he used to call them Cain and Abel, and they worked together closely during their time for the benefit of their constituency.

Charles didn't suffer fools gladly. There was one morning in the Keys when members were debating a Bill designed to take away the Bishop's vote in Tynwald. Charles was inclined to oppose this move and retain the vote. That was until an advocate on behalf of the church was allowed to make a representation at the bar of the House. Sadly, it was a rambling, incoherent and largely inaudible affair and when the poor man sat down Charles immediately stood up and said 'Mr Speaker, I was inclined to vote against the Bishop losing his vote, but on account of that appalling presentation, I'm going to vote for it' and sat down.

He steered through the important Data Protection Bill, he was incredibly active in promoting the ideas behind the proposed Ministerial system which was to replace the antiquated Board system, he was a great proponent of local government reform, and one of his great achievements was steering through the amalgamation of the Island's two electricity generating authorities into one concern, something that was crying out to be done. His motion on the recognition of Manx Gaelic by the government was ground-breaking in securing the official recognition of the native language of the Island, and the positive effects of his actions are still felt today.

He decided not to stand again for the Keys in 1986, though it's very likely he would have been returned and would have gone on to become a Minister in the new government.

He left to concentrate on his growing business concerns but things came to a shuddering halt when he suffered a serious heart attack and in 1989 he actually sold his business. But he made a remarkable recovery and immediately set about starting up a new business.

The work Charles did in his business life was complex, and in Roger Rawcliffe's book No Man Is An Island there's a description of some of that work...'Charles Cain, along with people like John Crellin at T W Cains, devised a number of highly complicated and technical tax schemes using Isle of Man companies and trusts' and he credits Charles with advocating the greater regulation of banks, the abolition of the Usury Acts and the regulation of providers of trusts and companies in the Island.

Nowadays, of course, our operations are transparent and squeaky clean, but they still rely on our special constitutional status and our ability to find ingenious ways to use that to our advantage and Charles was cleverer than most in doing this and working tirelessly to expand and secure our hugely successful offshore financial status. Someone commented after his death that Charles set the standard for integrity, honesty and ingenuity.

Charles had just published his second book Understanding Offshore – A Primer, he edited the Offshore Investment magazine writing over 70 editorials over the years, he was an antiquarian, a linguist, a visiting professor on the Island and in America, a politician, a musician – he was an early member of the Tallis Consort and ran the choir for some years, an epic globe trotter, a proud Manxman and a family man. Few people will have ranged so widely with their energies and enthusiasms and left behind such an extraordinary legacy for their nation.
He loved his Island, his Manxness and his culture and the Island is a better place because of him.
Published: Thu, 01 Jan 1970