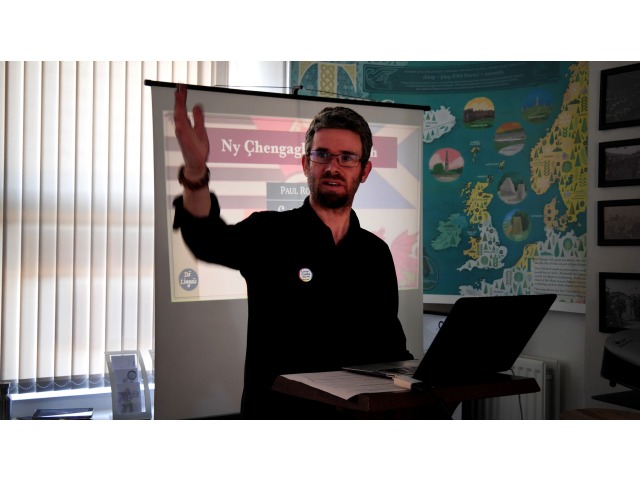 Bee daa lessoon ayns Gailck goll er cummal ayns Mee Vayrnt, enymssit 'Ynsee red ennagh ayns Gailck!'
Two lessons, suitable for intermediate learners and above, will be held in March, called 'Learn something in Manx!'
These sessions were first delivered for Culture Vannin as part of the offerings for Gaelg21 - a month-long celebration of Manx, which took place between 9 June - 9 July 2021. Such was the popularity of the sessions that we have decided to repeat them, so more people have the opportunity to experience these great, interactive lessons!
"Claghyn Runeagh" - 15 Mee Vayrnt, 7.30pm - 9pm, Culture Vannin, St. John's (as er Zoom). Shennaghys cheet ny Shenn Loghlinee dys Mannin, yn aght dy lhaih ny Runeyn er ny croshyn Manninagh, as gynsagh paart dy henn Loghlinish dy lhaih screeuyn grainnit ny jees. A 1.5 hour session about the Vikings and their stone crosses delivered through Manx

"Ny Çhengaghyn Celtiagh" - 22 Mee Vayrnt, 7.30pm - 9pm, Culture Vannin, St. John's (as er Zoom). Shennaghys as fysseree mychione ny Çhengaghyn Celtiagh. A 1.5 hour session about the Celtic languages delivered through Manx
Both sessions are free to attend and will be delivered at Culture Vannin in St. John's, as well as live on Zoom. In-person numbers are limited to 20: email gaelg(at)culturevannin.im to secure your place, stating whether you would like to attend online or in-person
Published: Tue, 15 Feb 2022