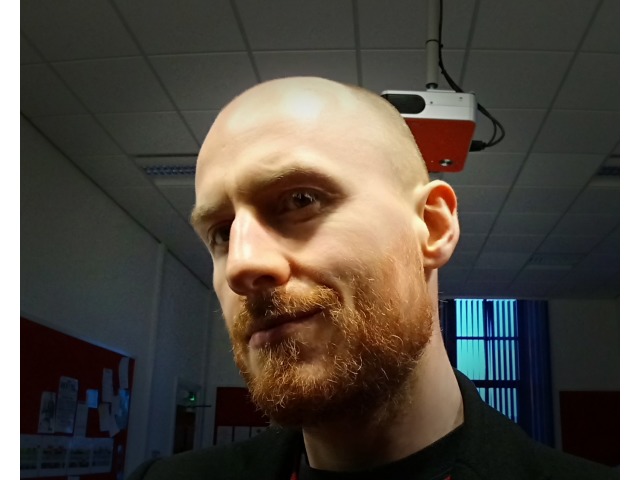 The story of Manx and Me spans my whole life but - like any good story - has become sharper in focus over time. My serious study of Manx started just four years ago, yet Manx and I have always been connected in some way.
Growing up, my dad (like most), knew the odd word here and there. Conveying a strong affinity with the island's heritage he would proudly tell us how ushtey was water, recount the tale of the moddey doo of Peel Castle, and promulgate his favourite expression - Freayll yn ellan glen! ("Keep the island tidy!") He would also explain how Manx Gaelic was linked to Irish and Scottish Gaelic, giving me, my brother, and my sister a sense of connection to a broader cultural world. Further still, we were raised in Anagh Coar, the "crane marsh", where every street proudly displays its Manx name - Darragh ("Oak"), Hibbin ("Ivy"), and Urley ("Eagle") to mention a few. Manx, then, was always around and the words were always on our lips, even if just telling someone the name of the street we lived on.
My first formal contact with Manx came from Brian Stowell's lessons at Anagh Coar School. The lessons were delivered in pretty much the same way they are today: around half an hour in the week where we would cover basic introductions, names of everyday objects, and some other useful expressions. The lessons were fun, but in recent years I've had to apologise to Brian as I remember that I often made things difficult: guilley mitçhooragh - a mischievous boy - I would take any opportunity to mess around and didn't fully dedicate myself to the study of Manx. With that said, I do think the lessons gave me an early grounding in Manx that would prepare me for my return to the language in later life.
It was while I was undertaking post-graduate study in England that I developed a strong longing to return home (I'd been studying in England for around seven years). Although I couldn't just return home, as a way to connect to the island I decided to study Manx. I remember joking with my sister just before starting that - being used to traditional Manx accents - we could sound like we were speaking Manx if we just made words up, but that, of course, we didn't actually know the words. Being part of a multi-cultural environment at that time, too, I'd started to take more of an interest in other languages. My flatmate was from Spain, and our university office had people from every corner of the world studying and working there.
Although I'd learned some Spanish and had some leftover knowledge from high school French and German, I'd never taken a second language to fluency. I think that because I could so readily connect to Manx at that time I was highly motivated to learn everything I could and to become fluent. Alongside that was the availability of learning material: there was more than enough for me to make a strong start remotely on learnmanx.com. To achieve my goal I would seek out Manx language wherever I could (online) and use it on whoever I could, even if they had no idea what I was saying (I'd provide a translation, of course!). On returning to Mannin I was able immerse myself in the language by finding any conversation group or class that was going (there are, thankfully, many these days). I also felt lucky to have been given a chance to be a regular part of Manx Radio's Friday show, Jamys Jeheiney, at an early stage of my learning. (Being live on air on a Manx speaking show you've no choice but to have a go using the language you've learned!) So, being home I had to luxury of time to learn as I looked for work, opportunities to practise, and a patient mother and step-dad who put up with staying at their house and using their internet to continue my studies!
Nowadays I have come full circle and teach Manx myself, and having become fluent I absolutely feel I have raised my confidence for language learning and expanded my horizons. Speaking as a psychologist I could have previously told you of the evidenced benefits of bi- and polylingualism, however, having now learned Manx I can fully attest such benefits from personal experience. To investigate things a bit further I'm currently running something of an experiment on myself: I now study Irish, Scottish Gaelic, Welsh, Spanish, Norwegian, and Russian, and dabble with a few others here and there, too. My day would not feel complete if I wasn't taking in new words and connecting to another of the word's many cultures through language . . . and it all truly started with Me and Manx.
Peddyr Crellin
Published: Thu, 01 Jan 1970