Thu, 10 Jun 2021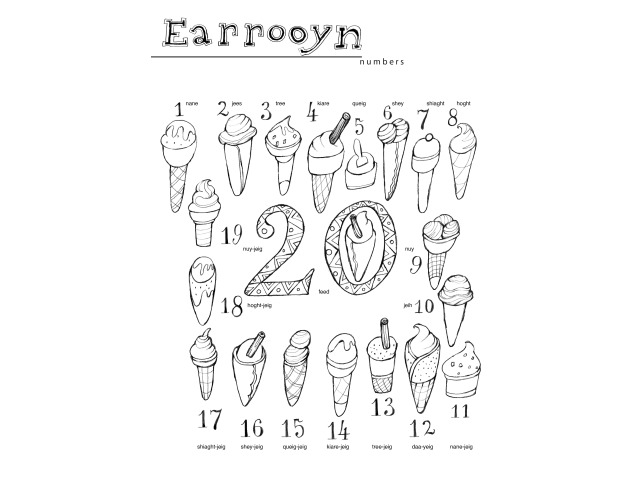 Earrooyn
We are delighted to launch two new colouring-in sheets as part of Gaelg21: a month-long celebration of the Manx language. These have generously been made available to download for free by Professor of illustration, Jo Davies, and can be found in Cool Mann - a Manx colouring book for all ages. The first colouring-in sheet can be found here, and the second one here.
Colouring-in competitions! Primary-aged children can enter two colouring-in competitions during Gaelg21. The first competition features the Earrooyn (Numbers) design and celebrates the sell-out Oie Vingo night that launched the Gaelg21 celebrations, on Wednesday 9th June. To take part: simply print off and colour in the sheet. Once the masterpiece is finished, upload a photo of it onto social media with the hashtag #gaelg21 (please make sure that it can be seen publicly) or email it to gaelg(at)culturevannin.im The deadline is Thursday 17th June.
The second competition features the Ellan Vannin design, with a number of Manx place names on it, and celebrates a series of short films released by Culture Vannin exploring Manx Gaelic place names of the Isle of Man. The competition will launch on Thursday 17th June, and the deadline is Thursday 24th June. As above, simply print off, colour in and upload it with the hashtag #gaelg21 making sure that the entry can be seen publicly, or email the entry to gaelg(at)culturevannin.im

There are two age categories: Key Stage 1 (reception to year 2), and Key Stage 2 (year 3 to year 6), and the winner of each category will receive prizes from Culture Vannin. Aigh vie - good luck!
Jo is known internationally for her work as an illustrator, writer and academic - you can find out more on her website. She created some Tannee Sauchey (Stay Safe) colouring sheets earlier in 2020, which were also free to download and which were displayed in the windows of many homes around the Island, as well as some beautiful Nollick Ghennal colouring sheets in late Autumn 2020.
Gow shiu soylley jeu - enjoy them!
These free downloads are for non-commercial use