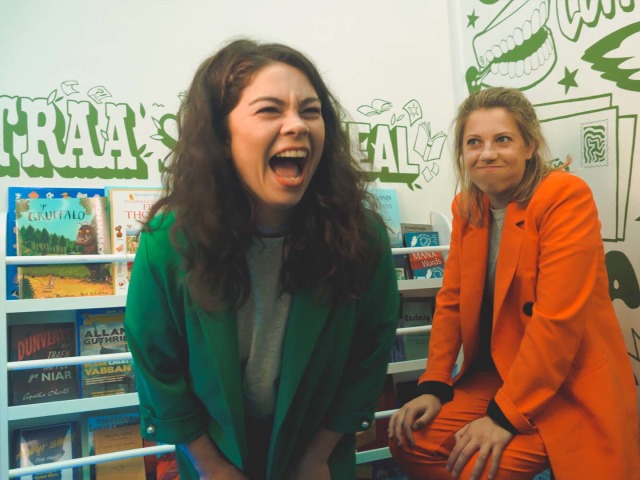 The stakes are high, and cakes are being thrown… join Ruth, Michelle and Chloe for some joyful Manx language lessons, perfect for complete beginners of all ages.
Chloe Shimmin and Michelle James from Hello Little People, the well-known musical and theatrical educational duo, teamed up with us at Culture Vannin for a series of films which drew on their limitless stores of fun and competitiveness!
The three games, devised and led by Ruth Keggin Gell, Manx Language Development Officer at Culture Vannin, all revolve around different areas of Manx Gaelic, helping Chloe and Michelle to learn through play.
The first game is "Ta Graihagh Gra...", based on the well-known game 'Simon says…', where there is no end of laughter as Chloe and Michelle compete to see who can respond the best to instructions to run, sing, sit down and more. Next there is 'By vie lhiam…'; a game where they need to ask for tasty foods like cheese, chocolate and cake, competing to have Ruth throw it at them! The final game is 'Bannaghtyn,' or 'Greetings,' a game which has Chloe and Michelle hilariously tongue-tied as they try to be first in with the correct greeting for the time of day.
It was wonderful to work with Hello Little People to show some different ways in to accessing Manx, and we released the films to coincide with the annual Cooish Manx language festival, which takes place in early November.
Hello Little People were founded in 2020 and have performed many productions since then to audiences all over the Island. Their next show will be 'Cinderella, fella!', taking place between 21 – 28 December.
The three films, 'Hello Little People learn Manx!' are available to watch here on the Learn Manx website, or via our Learn Manx YouTube channel.
Published: Mon, 08 Nov 2021