Fri, 10 Feb 2023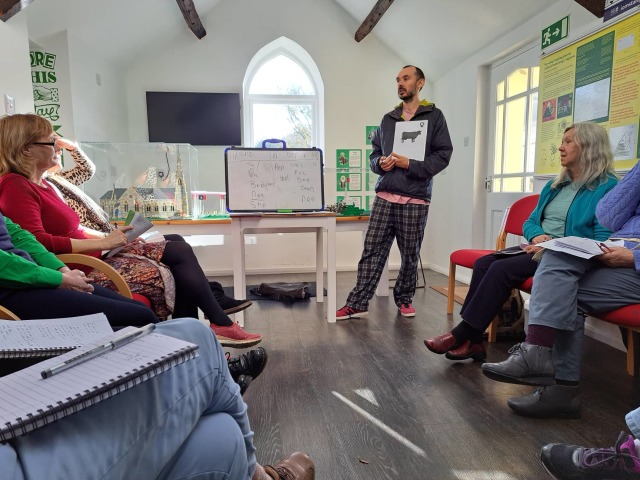 Jamys O'Meara teaching a weekend course at Culture Vannin in October 2022
Culture Vannin is pleased to be running another intensive weekend Manx course for intermediate learners in April 2023, taught by Jamys O'Meara.
The course will take place at Culture Vannin in St. John's between 10am - 4pm on Saturday 15th and Sunday 16th April. It will cover some of the final lessons in Keim 3 (level 3) of Culture Vannin's 'Loayr Gaelg' course. The course is suitable for those who will attend the intensive weekend in February 2022, as well as new students; we just ask that, before attending, all participants ensure that they are comfortable with all material covered in Keim 2 of the Loayr Gaelg course, and the earlier modules in Keim 3.
The weekend course is supported through Culture Vannin's development work and is free for students to attend. though donations to help support our work are gratefully received: https://culturevannin.im/donate/
Places will be offered on a first-come, first-served basis. Places are normally snapped up extremely quickly, so make sure to sign up well in advance to avoid disappointment! Sign up for the April Manx weekend course for intermediate learners.