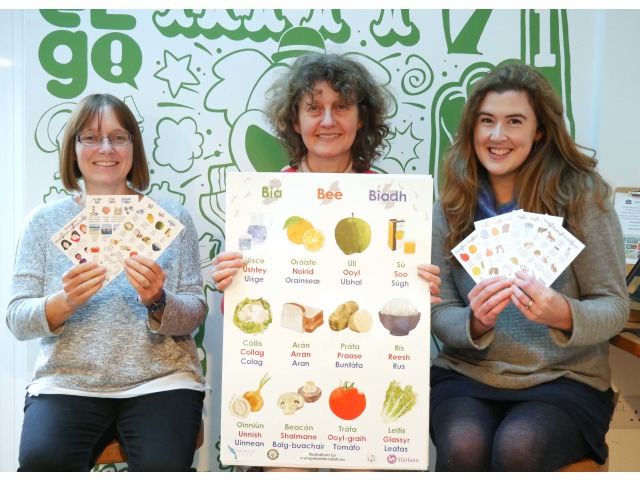 Claudia Koenig from the Unnid Gaelgagh, Aalin Clague from the Bunscoill Ghaelgagh, and Ruth Keggin Gell from Culture Vannin, pictured with the posters and postcards
Trilingual postcards have been produced for the Cooish Manx Language Festival, to celebrate the Isle of Man's shared linguistic heritage and connection with Ireland and Scotland.
A project celebrating the links between Ireland and the Isle of Man began in early 2020, when Bunscoill Ghaelgagh teachers Aalin Clague and Adrian Cain visited Kilkeel in Northern Ireland, with the aim of establishing a strong, long-term relationship between the Isle of Man and Lower Mourne region. This developed into a collaborative project called Cassan ('path' in Manx). Despite lockdown challenges, the project produced some fantastic online multi-lingual events and cultural exchanges, as well as developing series of colourful educational posters in Irish, Manx and Scottish Gaelic.
Seven topics are explored in the posters (food, weather, emotions, pets, colours, clothes and the beach), which were created using original artwork by Manx artist Vicky Webb and Irish artist Andrea McCloskey.
Thanks to the hard work of organiser Josephine Dunbar, from Boirche Íochtar, who led the project on the Mourne side of the sea, plus funding from Colmcille1500, posters are being distributed in every Gaelic medium education primary school in Ireland, Scotland, as well as in some schools in the Isle of Man. The posters have even reached Canada!
Aalin Clague, at the Bunscoill Ghaelgagh, said:
"The children are really excited to see how the three Gaelic languages relate to each other. It does wonders for their general linguistic understanding and shows them that learning Manx Gaelic isn't an isolated skill; they are part of a larger community of Gaelic speakers in the British Isles and the Gaelic diaspora."
The posters, with their original artwork, have now been reproduced as promotional postcards by Culture Vannin, and a number have been given to the Unnid Gaelgagh, who teach Manx around the Island's schools. The Isle of Man Post Office have very generously provided 600 stamps for these postcards, so that they can be sent between schools.
Claudia Koenig from the Unnid Gaelgagh said:
"The Manx postcard project will give our pupils the opportunity to use what they have learnt in lessons to communicate with pupils in other schools. Year 6 pupils who learn Manx are looking forward to writing and sending these lovely postcards to their peers."
The postcards will also be available to the public at 'Cooish, Cappan as Croo' on Saturday 6th November at the Corrin Hall. Ruth Keggin Gell, Yn Greinneyder, Manx Language Development Officer for Culture Vannin, said:
"'Cooish, Cappan as Croo' is part of the Cooish Manx language festival and is open to everyone who is keen to find out more about Manx. We're delighted to be able to offer these postcards to the public and help them discover more about the links between the Isle of Man, Ireland and Scotland."
The words found on the posters and postcards will also feature in one of the informal competitions at the Cooish event on Saturday night, organised by Yn Chruinnaght. You can find out more about the Cooish, and how to get involved, by visiting: www.learnmanx.com/cooish
You can find out more about the Colmcille1500 celebrations, taking place over the course of this year, by visiting: Colmcille 1500
Published: Thu, 04 Nov 2021