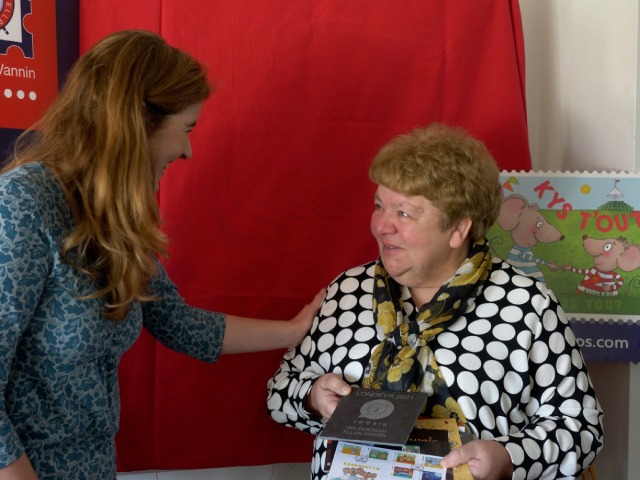 Maxine Cannon, from the Isle of Man Post Office, is delighted with the surprise presentation of the Londeyr award
Jeebin, the Manx Language Network, is delighted to present Oik Postagh Ellan Vannin with the annual Londeyr award, as part of the Cooish festival celebrations.
The Londeyr (or 'lantern') award was introduced by Jeebin in 2018 and celebrates a person or a group who shine a light on, and for, the Manx language, helping to increase the use of the Manx on a daily basis.
The Isle of Man Post Office is a dynamic, forward-thinking and innovative postal business, which has been committed to enabling people to communicate internationally from the Isle of Man since it became a postal administration in 1973. Manx culture and language has always been important to the Isle of Man Post Office, and is woven through stamp issues on a regular basis, helping to increase the visibility of Manx nationally and internationally. One of the most recent editions of stamps, entitled 'Bannaghtyn', released in 2019, helped enable the public to become more familiar with popular Manx greetings, along with a set of phrase cards that were printed and distributed by the Isle of Man Post Office.
Maxine Cannon, General Manager of Stamps and Coins at the Isle of Man Post Office, was being interviewed by Ruth Keggin Gell – a representative of Jeebin – about the work of the Isle of Man Post Office, when she was surprised with the presentation of the Londeyr award.
Maxine said:
Being at the heart of our community, we are incredibly proud of our Manx heritage and beautiful Manx Gaelic language. To have the opportunity to act as a worldwide ambassador for our Island, through our diverse range of stamps, means a lot to us and we are absolutely delighted to have been awarded with the Londeyr 2021. Spurred on by this recognition, we will continue to fly the Manx flag high to make it visible in every corner of the world. Gaelg Aboo!
Previous recipients of the Londeyr award have been journalists Dollin Mercer (Manx Radio, 2018) and Paul Moulton (MTTV, 2019), and illustrator Vicky Webb (2020).
Published: Thu, 04 Nov 2021