Fri, 25 Nov 2022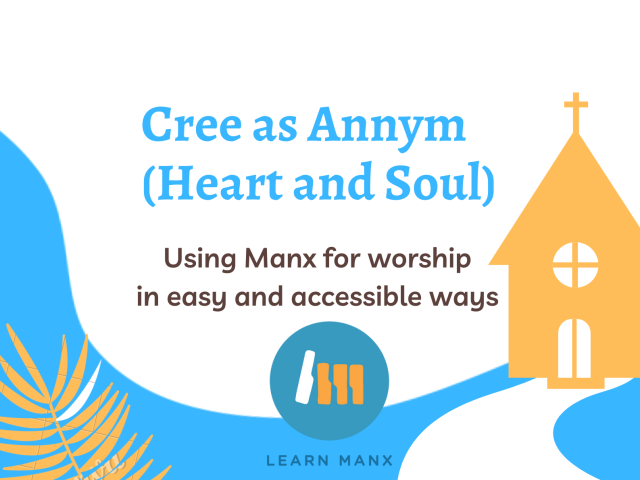 On Friday 20th and Saturday 21st January 2023, Culture Vannin will be running two free workshops in conjunction with Thie dy Vea retreat house in Peel.
Entitled 'Cree as Annym' (Heart and Soul) the two workshops explore accessible ways to engage with and use Manx for worship.

On Friday 20th January, Ruth Keggin Gell (Manx Language Development Officer for Culture Vannin) will lead a one-hour workshop from 6pm - 7pm teaching simple Taize chants in Manx. A simple supper will be served at 7pm, and you can use your new skills in a half-hour Taize service at 8pm. If you haven't come across Taize chants before, they're very beautiful, mindful and use lots of repetition so are easy to pick up. Ruth will be teaching by ear as much as possible for this workshop. These Taize chants will be brilliant to use during Lent, or at any other time of the year.

On Saturday 21st January, between 9.30am - 12.30pm, Ruth will teach a workshop exploring liturgical phrases, prayers, blessings, and some conversational Manx. Whether you're a member of the clergy, a church welcomer, attend a bible group, or just want to learn some Manx for your own personal worship, you are very welcome to come! This workshop is back by popular demand, after Ruth ran a session earlier this year, which has seen greater use of Manx in some of the churches in the Isle of Man (which we are delighted about!).
Both workshops are free to attend, but booking is essential. To find out how to book, as well as options for meals and/or accommodation (Thie dy Vea have put together some great options for anyone who might like to partake in that) click here: Cree as Annym - Workshop descriptors and booking info
Tar as ynsee red beg dy Ghaelg marin - come and learn a bit of Manx with us!