Wed, 16 Nov 2022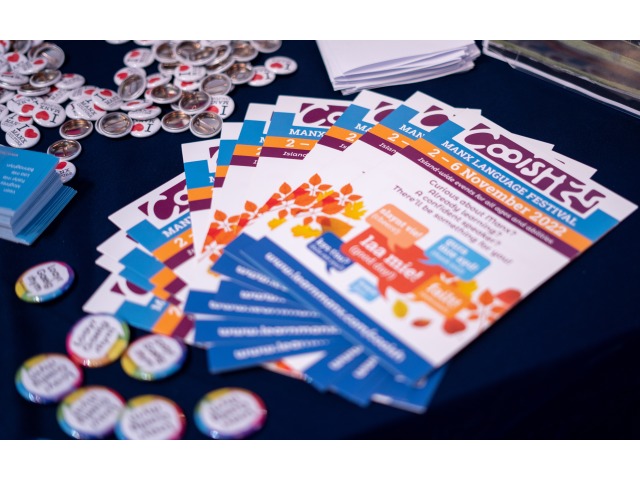 This November people from all corners of the Isle of Man, and beyond, came together to celebrate Manx Gaelic through the annual Cooish festival. The Cooish is community-led festival, and with fourteen events programmed over five days, there really was something for all ages and abilities.

The festival started in the East of the Island, with two pop-up beginner lunchtime lessons from Culture Vannin held at the Henry Bloom Noble library on Wednesday 2nd November. Festival goers braved the torrential rain (jeant dy mie shiuish – well done you!) and learnt some useful phrases and vocabulary, ready to put into practise during the rest of the week! On Wednesday evening there was a talk given in Manx by Adam Horne and Jo Callister, exploring the journey from Peel to Fleshwick by sea, held at the Ebenezer Hall, Kirk Michael. Pitched brilliantly for intermediate learners through to fluent speakers, the talk explored place names and stories, accompanied by beautiful footage and imagery, and deserved the feedback we heard from so many who were there, and who gained so much from it: "v'eh FEER symoil!" – "it was VERY interesting!". Yet again, we had folk braving the wild, wet, wintery weather to come out to Kirk Michael, with one Gaelgeyr braving the elements to ride there on his daawheeyl!

On Thursday 3rd November the festival headed east again, with a 'pop-up Gaeltaght' lunchtime event at Noa Bakehouse in Douglas, organised by language organisation Pobble. This gave Gaelgeyryn the chance to chat in a relaxed environment with bit beg dy vee as jough (a bit of food and drink), and the appetite for the event was excellent as twenty Manx speakers, spanning a 60 year age range, came together to enjoy one another's company through Manx. Though the first evening event, a singalong night with Mooinjer Veggey, was cancelled due to illness, the second event at the Thie Bane (White House) in Peel was packed, as more than thirty people came for coloayrtys (conversation), joining the regular group that meet there fortnightly on Thursdays. It was particularly lovely to see two Manx learners, who participate in Culture Vannin Manx classes on Zoom, over on their holidays from England and getting 'stuck in' to everything at the Cooish!

Friday 4th November was a bumper day for events, with a morning Manx conversation session in the Mad Hatter's Café in Ramsey, followed by an hour-long walking tour in Manx around the town, both led by Paul Salmon from Manx organisation Tantaran. At lunchtime Nicola Tooms, Assistant Curator for Manx National Heritage, gave a fascinating talk in English exploring how some of the recordings of native Manx speakers, made in the first part of the twentieth century, came to be created and how some of these have since been digitised through MNH's work with the British Library and the UOSH project. Later on, Yn Chruinnaght delivered a smash-hit of an evening with 'Cruinnaght Vanninagh Ashoonagh' (meaning Manx National Gathering, a traditional name given to a similar event over one hundred years ago!) building on the success and popularity of the first event held last year. Children and adults alike could form part of the audience, or take part in very informal, fun mini competitions from song to stump speeches, all celebrating the Manx language.

On Saturday 5th November, a Manx language fair, called 'Cooish, Cappan as Croo', took place at the Institute, Laxey. Organised by Culture Vannin, in collaboration with all Manx language groups, the event offered the whole community the opportunity to come and find out more about, and engage with, Gaelg (Manx), whether they were seasoned speakers, or had only just discovered about the Manx language and were keen to learn more.

Between 11am – 4pm, fair-goers were welcomed and could engage with and learn from Manx speakers and organisations who work hard to promote and support the language; have fun with easy games and activities in Manx; buy beautiful Manx language crafts and delicious bee (food) and jough (drink); pick up free resources; and enjoy Manx language story time for children or a cooish (cosy chat) with other speakers. It was brilliant to see so many faces, both familiar and brand new, at the event, and we were delighted when we overheard a lady exclaim 'it's a really great outreach event'. That's what we were hoping for!
Cooish, Cappan as Croo also played host to the presentation of the 2022 Londeyr (lantern) award, which recognises individuals or organisations who are shining a light on, or for, the Manx language, with their use of Gaelg. This year two awards were presented; one to Joney Faragher, MHK for Douglas East, for her use of Manx in Tynwald and in daily life, and the other to The Fynoderee Distillery, who are proud to use the Manx language on their products. The Skimmee Gaelgagh – the peripatetic team who teach Manx in the Island's state primary and secondary schools – also made some awards to students who had taken part in competitions in the run up to the Cooish festival.
Lastly, on Sunday 6th November, three events took place – two different levels of Christmas song workshops, which attracted 42 participants from complete beginners through to fluent speakers – and some cosy conversation at Greens Café in St. John's. We can't wait for next year – ta shin jeeaghyn roin lesh y Chooish 2023!

Kys ta'n Chooish gobbraghey / How the Cooish works:
The Cooish is organised by the Manx language community, and anyone can put on an event – just email Ruth Keggin Gell (Yn Greinneyder / Manx Language Development Officer at Culture Vannin) via: gaelg(at)culturevannin.im* before 1st May each year with your ideas. Next year's festival will be held between 1st – 5th November 2023. We'd love to see you there!

*replace the (at) in the email address with the @ symbol