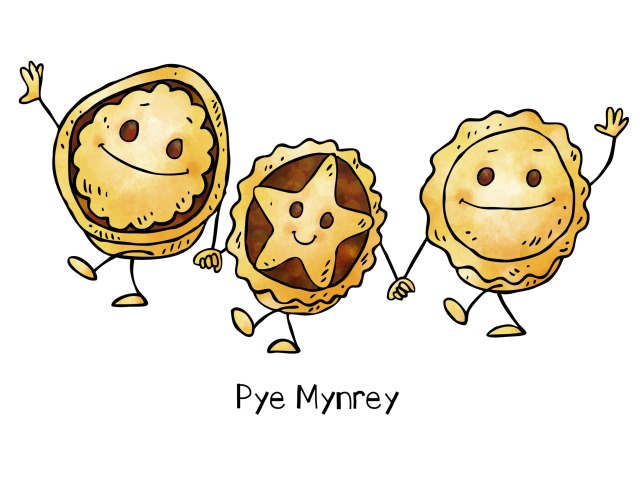 Christmas is being celebrated in a uniquely Manx way this year through an online advent calendar.
A series of quirky images commissioned by Culture Vannin will be released throughout December illustrating parts of a traditional Christmas on the Isle of Man. But unlike usual advent series of images, this will be entirely in Manx.
"Everyone benefits from our celebrating and building on what makes the Isle of Man special and our language is a key part of that," said James Franklin, Online and Educational Resources Officer at Culture Vannin.
Beginning with a Billey Nollick (Christmas Tree), the images move through Pye Mynrey (Mince Pie) and Jishag y Nollick (Father Christmas), towards the final Nollick Ghennal (Merry Christmas).
The images were created by Mary Cousins, who uses her Fine Art background in her role managing the Family Library charity in Douglas. Her heart-warming illustrations will be instantly recognisable to anyone who has visited the library.
"My day job is all about community, information and education," said Mary Cousins, "but I'm a Manx born and bred, so it's been a real privilege and joy to promote Manx culture in such a fun and positive way. I really hope the illustrations make people smile and introduce some Manx into some people's Christmas."
Inevitably, the series of images have a further Manx twist, not least in the choice not to finish the series on the 25th, but on the 26th of December.
"Hunt the Wrenis an essential part of the Manx Christmas calendar, so there was no way we were going to miss off St. Stephen's Day," said James Franklin.
Besides the Shelg yn Drean (Hunt the Wren) image, people will be able to enjoy other traditional parts of a Manx Christmas, including Ny Guilley Baney (The White Boys) and the Possan Mollag (Mollag Band).
"We have been admiring Mary's drawings for some time now," said James Franklin, "so it was wonderful to finally work with her on something which we think will really add to many people's Christmas on the Isle of Man this year."
The 26 images celebrating Christmas are being released through the Culture Vannin and Learn Manx Twitter and Instagram pages throughout December.
Published: Thu, 01 Jan 1970