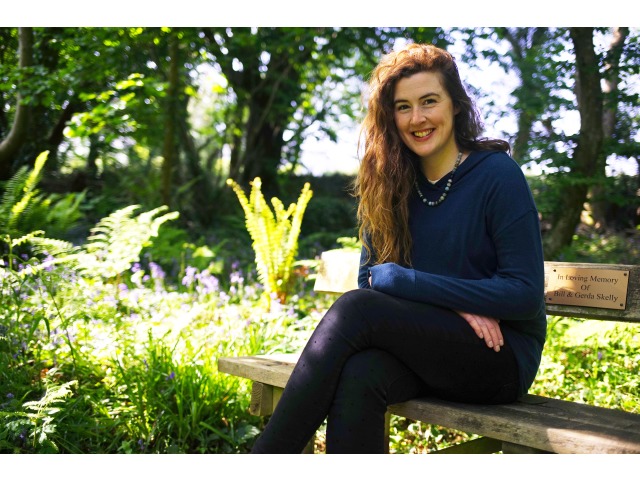 Photo credit: Tristan Gell
Culture Vannin is delighted to announce Ruth Keggin Gell as their new Manx Language Development Officer. In Manx, the role is known as Yn Greinneyder, 'the encourager or motivator', and Ruth's focus will be to promote, support and facilitate the Manx language within the community, as well as to help deliver the Manx Language Strategy.
Yn Greinneyder also works to develop and lead adult language courses, classes, conversation groups and projects, and promotes Manx through social and traditional media.
Director of Culture Vannin, Dr Breesha Maddrell, commented:
"We are delighted to welcome Ruth to the team – she brings great strengths relating to all aspects of what is a demanding role, especially in terms of teaching experience, community engagement and advocacy for the language. Our work is about partnerships with the community, and Ruth's engaging personality make her ideally placed to connect with new audiences."
Ruth holds a BA in Music from the University of York and a PGCE from the University of Cambridge. She has a wide breadth of teaching experience from one-to-one tutoring, classes and workshops, through to large-scale lectures, and has taught music and Manx to a wide range of age groups. An active performer, she has released two solo albums of Manx Gaelic songs to critical acclaim, and has brought Manx language and music to worldwide audiences through tours, festivals, and appearances in national and international media. Ruth is also part of an inter-Gaelic vocal project 'Aon Teanga:Un Chengey', which celebrates the linguistic and musical links between the Isle of Man, Scotland and Ireland.
On-island, Ruth is an active part of Manx language and music communities. She sings with the Manx Gaelic choir Caarjyn Cooidjagh and vocal ensemble Tallis Consort, and helps to support Yn Chruinnaght Inter-Celtic festival and the DESC Manx Folk Awards.
Ruth said:
"As someone who wholeheartedly believes in the value and importance of the Manx language, I am honoured to have been given the opportunity to become Yn Greinneyder. I am looking forward to working together with other groups and individuals who work hard to support and promote Manx, as well as collaborating with members of the team at Culture Vannin. I am excited to welcome new people to Manx, alongside celebrating those who already have a deep love for the language."
The Manx language is one of the Island's most important cultural assets; it is an Island success story and something in which we all can take great pride. The Isle of Man is now looked to by many as an example of best practice internationally. Well-organised community based initiatives and targeted Isle of Man Government support over many decades mean that the Manx language is available for all ages to enjoy, within nurseries, schools, adult classes and the wider community. It is also a unique identifier for the business community and for the Isle of Man as a whole.
Ruth will initially work part-time before moving to full-time hours at the end of November. She can be contacted on manxlanguage@culturevannin.im
Published: Fri, 16 Oct 2020