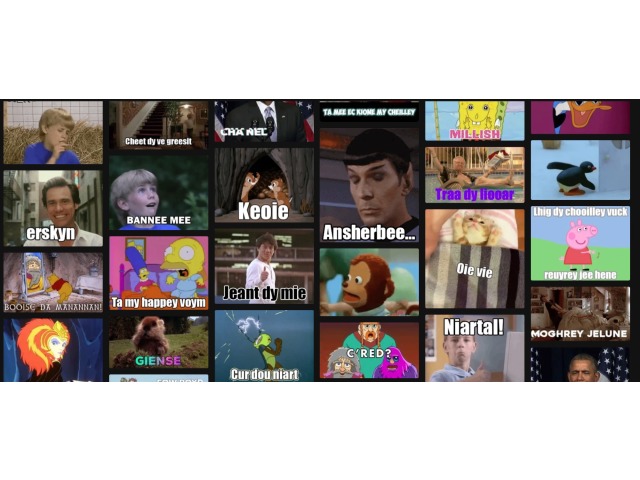 Fifty new Manx-themed GIF files are now available as a fun way for Manx speakers and learners to have fun in the language and express themselves online.

Created as a #treisht2020 project by Vicky Webb, the new gifs represent everything from 'traa dy liooar' (time enough) and 'goll as gaccan' (going and grumbling) to amazement and horror, and they are available on all the major chat and social media platforms.
GIF files are moving images which continue playing on repeat. These files will often be seen on social media sites like Facebook or Twitter, but they are also shared through the various mobile phone messaging services.
Having produced Manx language gifs, such as for the weather, previously, these new additions only increase the wealth of fun and engaging ways for Manx people to enjoy expressing themselves online.
These gifs were created by Vicky Webb, who worked with Culture Vannin in 2018 to create A Manx Alphabet, and more recently won the Londeyr award for her continued support of the language through her art. More on her work can be found here: Crumpets & Crabsticks.
These gif files were produced as one of the Treisht projects commissioned by Culture Vannin. Re-purposing grant and development money from events and projects cancelled during the start of the first lockdown, these projects offered a wide range of creative opportunities for creative freelance professionals to engage with Manx culture.
Treisht projects already released include Phil Kneen's photographs of the Island in lockdown; Manx music and song lessons by Isla Callister, Ruth Keggin Gell, Peddyr Cubberley and Beccy Hurst; art inspired by Manx culture from Beth Louella, Matthew Clayton and Juan Moore; music recordings by David Kilgallon, Rory Murphy, Laura and Dave Rowles; films by Open Water films and M is For Manx Cat. The final projects are being released by Culture Vannin over the coming months.
The 50 GIF files can be found by searching for the Manx phrase you are looking for in your social media or chat platforms, or a sample of them can be found via the links below:
Published: Wed, 24 Mar 2021