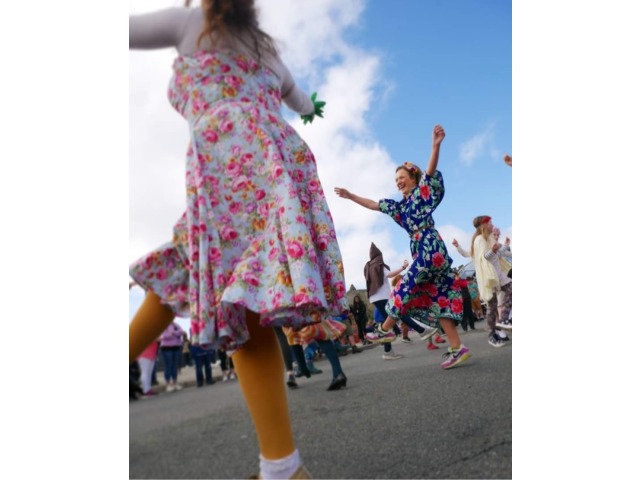 On Sunday 30th April, a family-friendly event will be taking place in St. John's, celebrating Oie Voaldyn - the night before May day. It wil begin at 4pm, with crafts and activities for children, and there will be a costume competition, battle between winter and summer, and procession with music and a contemporary Manx song called 'Arrane Oie Voaldyn', written by Paul Rogers. You can find the sheet music for the song and tune here, and the lyrics for the song here: page 1 and page 2. We've also made a short sound-file to help with the pronunciation and melody of the chorus for the song. You can hear that here. You can also see a full performance of the song, on this fantastic and atmospheric film!
In the Manx calendar, the beginning of May marks the start of summer, and there are many traditions connected with Oie Voaldyn, and Laa Boaldyn (May Day), which you can read about here. Make sure you get your crosh cuirn and yellow flowers ready!
In recent years, a festival has taken place in and around Peel at Oie Voaldyn, with a mock battle between winter and summer taking place on the shore (no prizes for guessing who wins!). Though it's unable to take place in a larger scale this year, it's brilliant that Paul and Anna, and other folk, are coming together to ensure that Oie Voaldyn is celebrated. Gura mie eu, Phaayl, Anna, as dy chooilley pheiagh!
Gow soylley jeh Oie Voaldyn - enjoy Oie Voaldyn, wherever in the world you are!
Published: Thu, 27 Apr 2023