Mon, 21 Jun 2021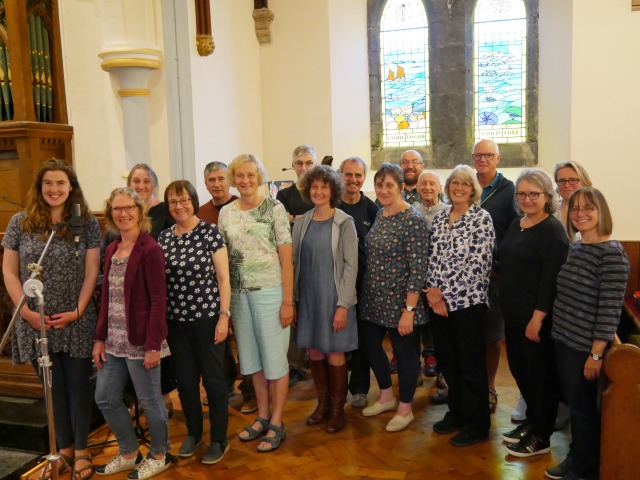 Caarjyn Cooidjagh recording 'Y Folliaght' at St. Mary's Church, Port St. Mary
The Manx Language Network's Gaelg21 celebration of all things Manx (9 June-9 July) has been timed to coincide with a year-long international event called Colmcille1500, which focuses on St Columba and the Gaelic languages in Scotland, Ireland, Northern Ireland, Nova Scotia and the Isle of Man.
Colmcille is the Gaelic name for Columba, but we use the spelling Columb Killey in the Isle of Man, which is most recognisable to residents of Arbory who celebrate Laa Columb Killey each year in June. The festival has been held for more than 100 years, with arts and crafts, exhibitions, and sports. This year, there will be special art and photography competitions to mark the 1,500th anniversary of the saint's birth. Jeebin, the Manx Language Network, is working with Arbory School to create resources which help show the parish's strong history with Manx. Full details can be found online: www.laacolumbkilley.org
Colmcille is most famously connected to Iona Abbey, which he founded in the 6th century. Over the centuries, Iona has come to be known as the centre of Celtic Christianity but the heritage and legacy of Colmcille in language and the arts spread throughout these islands and into the continent of Europe.
One of the creative 'treisht' projects offered by Culture Vannin in the first lockdown was to develop an artistic response to Colmcille1500. We were delighted when well-known singer and Manx speaker, Aalin Clague, offered the idea of writing a choral anthem inspired by a poem attributed to Colmcille. Dr. Marie Clague provided the lyrics in Manx.
The anthem – Y Folliaght (The Secret) – talks of Columba's journey across the seas, marvelling at the new sights and sounds, at the wonder in the world around him. A recording of the Manx Gaelic choir Caarjyn Cooidjagh has been made by Ballagroove Recording Studio, and will be released by Culture Vannin later this week on soundcloud. A video featuring beautiful imagery of the Isle of Man be be available next month via Vimeo, YouTube, social media channels and online on the Culture Vannin and Learn Manx websites.
Find out more about Gaelg21 at: www.learnmanx.com/gaelg21 and the Colmcille1500 celebrations at www.colmcille1500.net