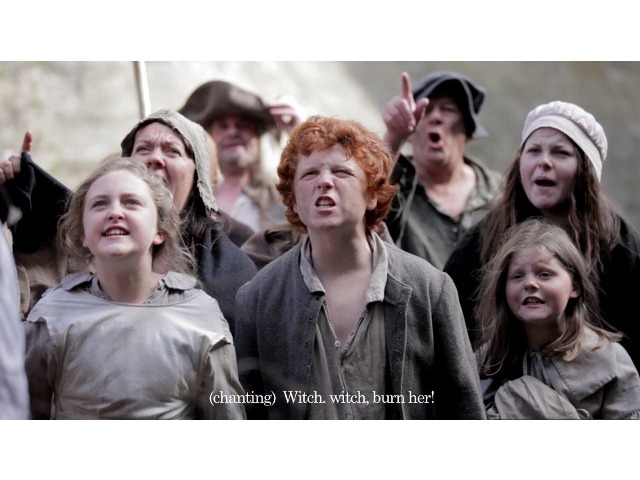 Press release on New short-film in Manx Gaelic
For a language once considered 'extinct' by UNECSO, the Manx language is doing remarkably well. As part of this renaissance, the Manx film 'Solace' is about to be premiered on September 14th at the Broadway Cinema.
It is set in 1617 and is based around the true story of Margaret Quaine, a woman whose life changes when she is accused of witchcraft, after being seen engaging in 'unnatural things' by the Bishop of Sodor and Mann.
The production was a series of challenges for newbie director/producer Andy North and his team - "First we had to find actors who either spoke Manx or who were willing to learn their parts in a new language, a daunting ask for any actor or actress. At the auditions we wanted to see powerful performances, especially from the woman who would play the lead part. We therefore asked all the actresses for a blood curdling scream; however, being a really hot day, we had all the windows open, only to find the building surrounded by police, who had been alerted by a concerned member of the public!"
There are a huge number of talented people connected with the creative industries in the Isle of Man, and the team were lucky to have some of these award winning artists, designers, editors, cinematographers and writers working on the film.
The process of preparing for the filming began with a CD for non-Manx speakers with a recording of their lines repeated over and over for them to learn. "The Bishop (played by local acting legend Wayne Kelsall) made his 30 minute commute to work listening to the CD every day for three months before it started to make any sense."
"It has been a long old process making a quality film (even a short one!), with lots and lots of people giving up their time and talent for free, but we hope it is worth it with the film travelling the globe and giving exposure to the Island and its unique cultural heritage."
The project received significant funding from the Manx Heritage Foundation as part of the up and coming Year of Culture 2014. Adrian Cain, the Manx language Development Officer for the Foundation commented 'that such a high profile and professional production illustrates what a vibrant position the language find itself in a present. Manx Gaelic Medium education to apps and films in the language are all illustrative of just how far we have come over the last twenty years'
Thanks must also go out to Steve Christian at Gasworks Media, the Mannin Shorts scheme and Manx National Heritage who deserve a special thanks for the use of all of its properties.
For further information about the film contact the Director, Andy North at: andy@iom.com and for information about the Manx Language then speak to Adrian Cain on 451098 or at greinneyder@mhf.org.im
Published: Thu, 01 Jan 1970