Thu, 01 Jan 1970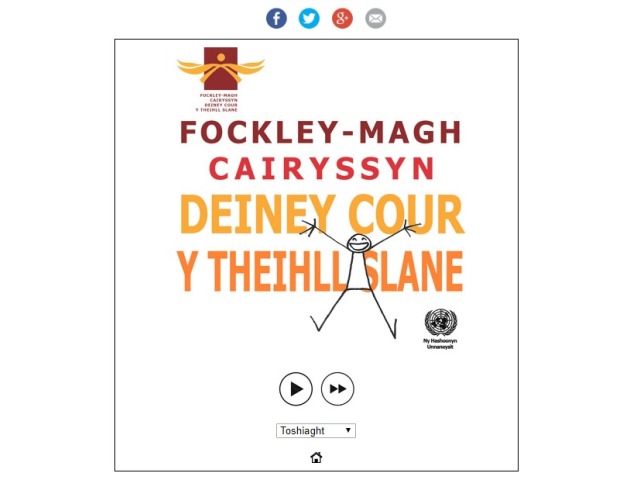 CULTURE VANNIN AND UNIVERSAL HUMAN RIGHTS INITIATIVE RELEASE THE FRST RECORDING OF THE UNIVERSAL DECLARATION OF HUMAN RIGHTS IN MANX GAELIC.
Working in close collaboration, Culture Vannin and Universal Human Rights Initiative (UHRI) have
released the first ever recording of the Universal Declaration of Human Rights in Manx Gaelic
- Fockley‐Magh Cairyssyn Deiney cour y Theihll Slane.
The Universal Declaration of Human Rights (UDHR) was adopted by the United Nations in 1948
as an unequivocal affirmation of the basic rights to which all people are entitled. In 2018, on the
occasion of its 70th anniversary, the UDHR remains as relevant and compelling as ever.
In addition to its importance as the foundational document of modern human right law and
activism, the UDHR holds the distinction of the Guinness World Record as the most translated
document. To date, the UDHR has been translated into over 500 languages, with more being added all the time.
Since 2015, in partnership with the United Nations Office of the High Commissioner for Human
Rights (OHCHR) and Department of Public Information (DPI), UHRI has led the UDHR Audio/Video
Project, with the goal of recording native speakers reading the UDHR in each of its translations.
To date, the project has collected recordings of the UDHR in nearly 100 languages. These
recordings are integrated with illustrations and the text of the Declaration in the UDHR Web App
(https://udhr.audio) and links are sent to schools and human rights organizations in the areas where
that language is spoken. The UDHR Web App has been viewed in over 190 countries by speakers of 200+languages.
The Manx version of the Universal Declaration has been released to coincide with Culture Month in the Island and represents an important addition to the work done to raise the profile of the language both in the Island itself and worldwide.
Manx language presentation of the UDHR click here
Universal Human Rights Initiative is a non‐profit organization founded on the
belief that achieving human rights begins with human rights education. People cannot defend their
rights, or the rights of others, if they don't know what those rights are. UHRI focusses on global human rights education,
leveraging internet technology to ensure that human rights information is as widelyavailable as possible.