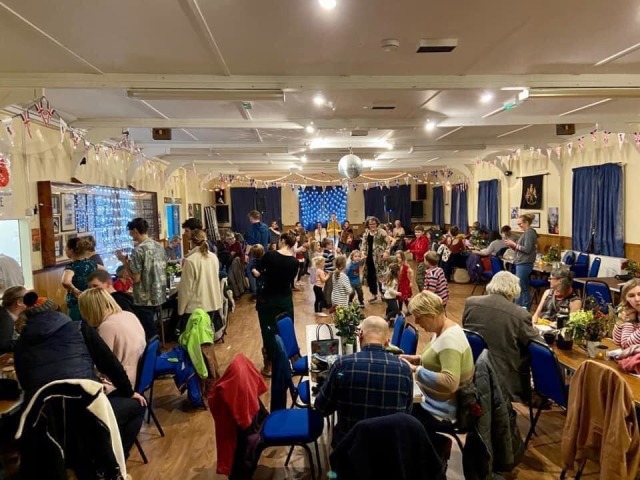 Last week saw the return of the annual 'Cooish' Manx language festival with events organised by the Manx language community for everyone interested in the Manx language. The festival featured ten events, and had something for all ages and levels of Manx speakers and learners.
The festival began with pop-up beginner Manx lessons for adults, which took place at Henry Bloom Noble library in Douglas, before moving to an evening led by pupils from the Bunscoill Ghaelgagh, where Manx speakers were taught fun and interactive lessons through Manx.
The second day of the festival featured a Manx language walk through glens and via a waterfall, led by members of Manx language charity Pobble. A free pop-up Manx songs and rhymes class for young children and their parents took place at the House of Manannan, led by Laura Rowles from Mini Musicians by Mannin Music. In the evening, a vibrant family ceili, organised by a parents' society called Sheshaght ny Paarantyn, took place at the Legion Hall in Port Erin, coinciding with the beautiful Port Erin fireworks display.
On Saturday, everyone was encouraged to come down to the Corrin Hall in Peel to a fair called 'Cooish, Cappan as Croo', organised by Culture Vannin and featuring all Manx language organisations. Fair goers could find out more about the Manx language by chatting to organisations, visiting Manx language craft and book stalls, and having a cowag (chat) over a cappan dy hey (cup of tea) and piece of berreen (cake) with other people enthusiastic about learning and using Manx. Children and adults enjoyed playing Manx language games together, and a Manx class held their lesson at the event. The highlight of the event was when the winners of the 'Aundyr Brian Stowell' were announced: an award set up by Manx language charity Pobble to reward creativity through Manx. Orry Franklin and Frank Joughin won the junior category, with Sandra Caley and Jo Callister winning the adult category. Orry, Sandra and Jo won for their creative writing in Manx, and Frank created a Manx language cookery video.
On Saturday evening, Yn Chruinnaght hosted a fantastic and entertaining competition night entitled 'Cruinnaght Vanninagh Ashoonagh'. Taking its name from an event that first took place almost 100 years ago, the evening centred around informal Manx language and music competition classes, suitable for complete beginners through to fluent speakers, and for all ages. The encouraging, inclusive and joyful atmosphere meant that participants felt comfortable to get up and 'have a go', and there was a brilliant display of talent – particularly from the children who took part. The audience were treated to beautiful original poems, songs and stories; wowed by the brilliance of the speakers who took part in the 'stump speech' class; and tickled by a joke class, where participants delivered a joke in Manx or on a Manx theme! The delicious bonnag provided in the interval, from the bonnag baking competition which formed part of the event, was much enjoyed, and no one was surprised when World Bonnag Champion, Tony Quirk, from Peel, walked away with first place for his lovely bonnag!
Two interesting talks concluded this year's festival. The first was presented by Rob Teare about Manx fishing in Ireland during the 19th century, with a particular focus on the stories of Ned Beg Hom Ruy (Edward Faragher) from Cregneash, taking place at the Howe Methodist Chapel. The second talk took place at the Colby Glen pub, and was an illustrated lecture about fishing in Sierra Leone, delivered through Manx. Speaker Phil Gawne drew on his own experiences working with some of the poorest, but most inspiring, people in the world, to deliver this engaging talk.
24 videos were also launched by Learn Manx to coincide with the Cooish festival, meaning that Manx learners and speakers who were unable to go to events could still take part and feel the festival vibe. These included 15 new Manx language films, made on the Calf of Man and presented by David Fisher, three new films presented by Yn Greinneyder along with the popular theatrical duo Hello Little People; an intergaelic mini video series featuring Manx, Scottish Gaelic, and Irish; and two films with the Isle of Man Post Office, who won this year's 'Londeyr' award from Jeebin, for their work shining a light on, and for, Manx.
Other projects included the creation of promotional intergaelic postcards for the community, 600 of which were provided to the Island's primary schools so that pupils could write to one another in Manx. Teachers from the Unnid Gaelgagh (Manx Language Unit) and Bunscoill Ghaelgagh also collaborated so that students at the Bunscoill and older students at QEII high school could have a live 'feyshtyn as freggyrtyn' session (questions and answers) through Manx. This opportunity gave all pupils a chance to use their Manx with other students and boosted the confidence of the secondary school pupils in particular.
Jeebin, the Manx Language Network, would like to thank everyone who was involved in organising events and projects, and to everyone who took part in the Cooish. Hee'm shiu ooilley yn vleih shoh cheet! See you all again next year!
Published: Fri, 12 Nov 2021